HOUSTON, Oct. 24, 2023 (GLOBE NEWSWIRE) -- Weatherford International plc (NASDAQ: WFRD) ("Weatherford," and, the "Company," "we," "us" and "our") announced a five-year credit facility that is effective today with aggregate commitments of $550 million. The facility is comprised of a $250 million tranche available for performance letters of credit and a $300 million tranche available as a cash revolver. There is also the optionality of a $200 million accordion based on satisfaction of certain conditions.
Girish Saligram, President and Chief Executive Officer of Weatherford, commented, "We are pleased to announce this significant milestone, which meaningfully enhances our liquidity and balance sheet flexibility. We appreciate the support of our bank partners in supporting this noteworthy step and it signifies continued strengthening of relationships and engagement, enabled by continued operating performance."
About Weatherford
Weatherford delivers innovative energy services that integrate proven technologies with advanced digitalization to create sustainable offerings for maximized value and return on investment. Our world-class experts partner with customers to optimize their resources and realize the full potential of their assets. Operators choose us for strategic solutions that add efficiency, flexibility, and responsibility to any energy operation. The Company operates in approximately 75 countries and has approximately 18,000 team members representing more than 110 nationalities and 335 operating locations. Visit weatherford.com for more information and connect with us on social media.
Contact:
Mohammed Topiwala
Vice President, Investor Relations and M&A
investor.relations@weatherford.com
For Media:
Kelley Hughes
Sr. Director, Communications & Employee Engagement
media@weatherford.com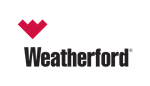 Source: Weatherford International, LLC