Set Point Choke
Take control
of your onshore
drilling operations
The technology that tamed deepwater drilling has landed.
Our PressurePro® control system puts simple, precise wellbore-pressure-management technology for any onshore drilling application in your hands. Purpose-built and easy-to-use, the system maintains wellbore pressures within the required window with minimal supervision during managed pressure, underbalanced, and flow drilling. The PressurePro control system comprises our state-of-the-art SafeShield® 5M rotating control device (RCD) and PressurePro electric set-point choke.
Leverage a nearly five-decade legacy
The MPD Leaders
Based on our decades of leadership in offshore managed-pressure drilling (MPD) technologies, we can help you to deliver safer, faster drilling operations on land. The PressurePro® control system, our most recent development, takes the knowledge we gained in critical, high-pressure/high-temperature (HPHT), and deepwater environments and perfects it for the challenges and scale of onshore operations.
PRESSUREPRO® CONTROL SYSTEM ADVANTAGES
Free your focus with semiautomated adjustments
PressurePro® Set-Point Choke
Get set for enhanced drilling performance. A key piece of the PressurePro system, our PressurePro set-point choke provides efficient and precise pressure control. The user simply inputs the pressure set point, and then the system automatically maintains it—within ±5 psi (34.5 kPa)—by applying constant bottomhole pressure during drilling and connections.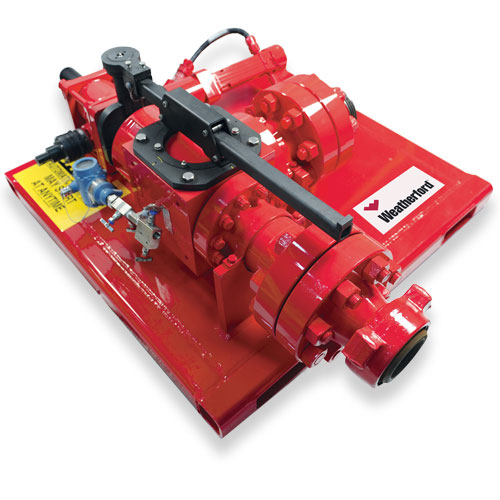 Augment your abilities with a higher pressure limit
SafeShield® 5M RCD
Next-generation technology takes your drilling operation to the next level. An integral part of the PressurePro system, our SafeShield 5M model RCD improves upon our previous industry-leading RCD design. Enhanced safety and operational features—including a shorter stack height, larger through-bore diameter, and higher pressure ratings—improve pressure management.
Take Control of Your Onshore Drilling Operations