Sustainability
We are committed to ensuring a sustainable future in the new energy economy
Weatherford is a company that is driven to innovate and provide solutions for today and tomorrow. We understand that how we produce energy matters, and we are committed to building a more sustainable future with greater focus than ever on transparency and ensuring environmental, social, and governance (ESG) priorities are managed responsibly. We are firmly committed to leaving the world a better place than how we found it and are well suited to make a positive and lasting impact. Sustainable operations have always been at the core of how we run our business and we believe we have the differentiation, footprint, and track record to contribute significantly to ESG and the Energy Transition.
To affirm this commitment, we announced our pledge to becoming net–zero by 2050 and have signed on to the UN Global Compact. Our Company seeks to achieve this goal by decarbonizing our operations and supporting our customers' efforts to do the same. As we move forward, we will build a roadmap to ensure our approach is thoughtful, pragmatic, and achievable, including setting science-based targets and milestones, with the ability to pivot with changing industry needs.
SUSTAINABLE PERFORMANCE

Weatherford is focused on implementing world class reliable, durable, efficient, safe, and environmentally responsible practices, products, and services.
This is led through our Operational Excellence and Performance System (OEPS), which integrates our management of quality, health and safety, security, and the environment elements through global standards, procedures, and protocols. All of our business risk assessments are inclusive of these elements, and protection of the environment is given a high priority in all of our product creation and service activities.
WORLD-CLASS PEOPLE
Our success depends on the quality of our people.
We understand that diversity and quality go hand in hand, and through our Diversity, Equity, and Inclusion (DE&I) Program aim to attract and retain a diverse, balanced workforce who are some of the best in the industry and are part of the One Weatherford family. Providing employees and environment in which they feel comfortable and are able to thrive is a top priority for our organization.
Celebrating Diversity and Encouraging Inclusive Behaviors
Through Our Employee Network Groups
Our DE&I networks continue to advance their unique focus areas across geographies, with many initiatives focused on empowerment and education.
The Women of Weatherford (WOW) network seeks to engage, support, empower, and inspire women in order to foster professional growth, advancement, and leadership within Weatherford. WOW continues to drive positive impact across the organization and our communities through actions such as bias awareness training and actively supporting local organizations that focus on the empowerment of women and the education of girls.
Every employee has the right to feel safe, comfortable, and respected at work and feel fully included within the Weatherford community regardless of their identity. Our EveryONE network aims to create a supportive culture of inclusiveness within Weatherford. For example, the network developed an Ally Handbook and workshop to discuss the stages of being an effective ally: empathy, knowledge and education, communication, and commitment.
The Emerging Professionals Network (EPN) is committed to the advancement of Weatherford's workforce, focusing on the development of future business leaders. The group helps employees develop business and personal relationships across the organization. Not only that, the philanthropic and social activities offered by EPN make a positive impact on employee morale and help members become more invested in their job.
Our Veterans Network ("VetNet") is committed to improving the lives of Veterans, within Weatherford and our communities, through outreach initiatives, social networking opportunities, recruitment activities, mentorship, and career development.
Weatherford Mentorship Program
Providing Opportunities for Employees to Succeed
The Weatherford Mentorship Program (WMP) is a Diverse and Inclusive initiative established to offer our employees access to mentoring opportunities. With an aim to enlighten, encourage, engage, and empower employees to reach their fullest potential, the WMP is pleased to partner with Lean In Energy (LIEN) to further its commitment to providing meaningful developmental and educational opportunities.
Lean In Energy is a leading mentoring community worldwide with a network of members of men and women across the energy value chain and beyond. LIEN drives the LeanIn.org mission and aspires to empower women in energy, and those interested in energy, to achieve their ambitions through mentoring, community, public awareness, and education. Via LIEN membership, Weatherford employees can take advantage of multiple mentorship programs focused on empowering them to achieve their professional desires.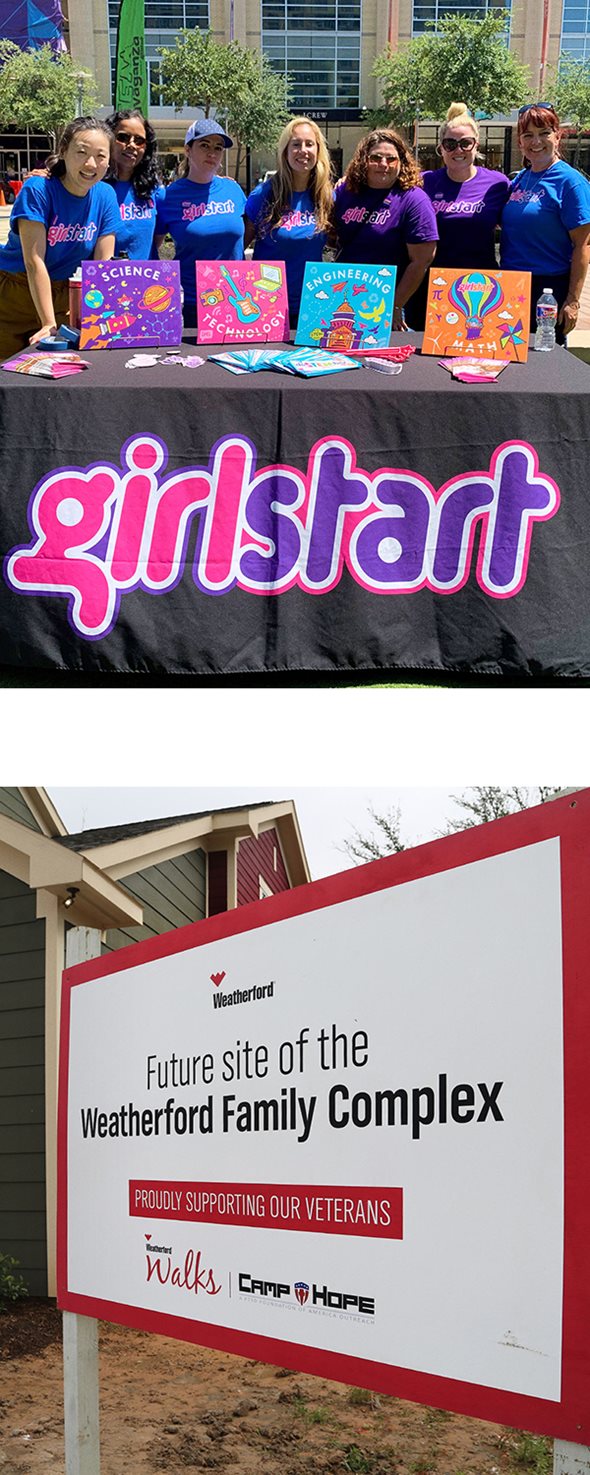 GLOBAL CITIZENSHIP
We are committed to enriching the communities in which we live and work by engaging with local communities, volunteering our time, and donating much needed resources. Our employees are passionate about their work and about making a difference. We encourage them to participate in causes they feel strongly about and offer them opportunities to become engaged.
Being a good corporate citizen also means having an unwavering commitment to act responsibly and with integrity, respecting the fundamental rights of our people. We strive to ensure individual rights within our area of influence. Together, we are committed to fighting corruption, protecting human rights, and leaving a lasting and positive impact on our world.