Multilateral Systems
Increase pay zone exposure and access bypassed reserves

Our experienced multilateral re-entry crews deliver consistent service excellence with a clean, properly-angled casing exit. We match your re-entry application with the most efficient option from our comprehensive portfolio—our services range from basic TAML (Technology Advancement for Multilaterals) Level 1 openhole systems to our award-winning OneTrip StarBurst™ Level 4 system—to minimize construction costs and maximize sweet-spot exposure.
Create Level 2 junctions with full-liner access to the lateral wellbore
Level 2 Multilateral Systems
Our field-proven services include standard- and shallow-angle QuickCut™ casing-exit systems matched with the PakLatch™ permanent seal-bore packer, along with the unique SRS™ 2 selective re-entry system.
Minimize the duration, cost, and risk of Level 3 junctions
Level 3 Multilateral Systems
Our StarBurst Level 3 multilateral systems deliver superior mechanical integrity in the junction. With its unique hollow whipstock-anchor assembly, the system requires only one whipstock run.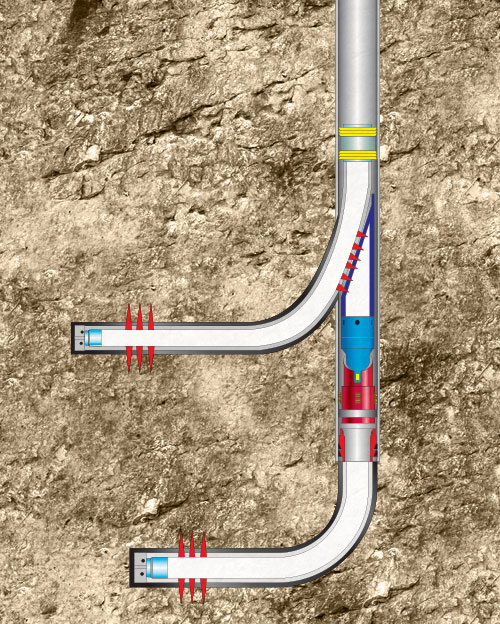 Maximize mechanical support and formation isolation
Level 4 Multilateral Systems
In as little as one trip, our crews create a Level 4 junction with large-diameter access to both the lateral and main bores.