Acquires measurements for determining the quality and vertical length of the cement bond between the casing and the formation
Applications
Delivering 3-ft (0.9-m) measurements, which depict the cement bond to the casing, and 5-ft (1.5-m) measurements, which enable interpretation of the cement bond to the formation
Determining top of cement
Determining hydraulic isolation between zones
Features and Benefits
Lightweight, short design
High temperature and pressure ratings
The BondView tool is easy to centralize in horizontal wells, which mproves data quality.
The tool provides reliable data and safe operation in most wellbore environments.
Measurements are less affected by casing corrosion or pipethickness changes than ultrasonic tool measurements.
Measurements are less affected by casing corrosion or pipe thickness changes than ultrasonic tool measurements.
The tool can be run on either single- or seven-conductor wireline.
Combinability with the Weatherford SecureView® suite, including FluxView®, UltraView®, and CalView® tools, enables diagnosis of multiple downhole threats in a single pass.
Tool Description
The Weatherford BondView cement bond tool provides data for interpreting the quality and vertical length of the cement bond to the casing and formation. The BondView tool uses a monopole transmitter along with 3- and 5-ft (0.9- and 1.5-m) receivers to provide traditional amplitude, travel time, signature, and variabledensity-log (VDL) measurements. It delivers superior measurements in high-temperature, high-angle, and high-pressure, water- or oilbased fluid environments.
The BondView tool is suited for high-angle wellbores, in which centralization is a key component of quality downhole acoustic measurements. The short, lightweight tool design helps to eliminate problems caused by inadequate centralization.
Specifications
Measurement
Output

3-ft (0.91-m) and 5-ft (1.52-m) amplitude, TT, VDL, attenuation

Logging speed

50 ft/min (15.24 m/min) at 1-in. vertical sampling

Vertical resolution

3 ft (0.91 m)

Depth of investigation

CBL: Casing-to-cement interface
VDL: Dependent upon cement bonding and formation

Mud-type or weight limitations

Water-base mud, oil-base mud

Combinability

CCL, gamma ray, neutron, UltraView, FluxView, CalView tools
Mechanical
| | |
| --- | --- |
| Outer diameter | 3.38 in. (85.5 mm) |
| Length | 10.75 ft (3.28 m) |
| Total weight (in air) | 164 lb (74 kg) |
| Temperature rating | 350°F (177°C) |
| Pressure rating | 20,000 psi (138 MPa) |
| Minimum casing size | 4.5 in. (114.30 mm) |
| Maximum casing size | 13.38 (339.85 mm) |

Short and lightweight, the BondView tool is easy to centralize to enable accurate acoustic measurements in highly deviated wellbores.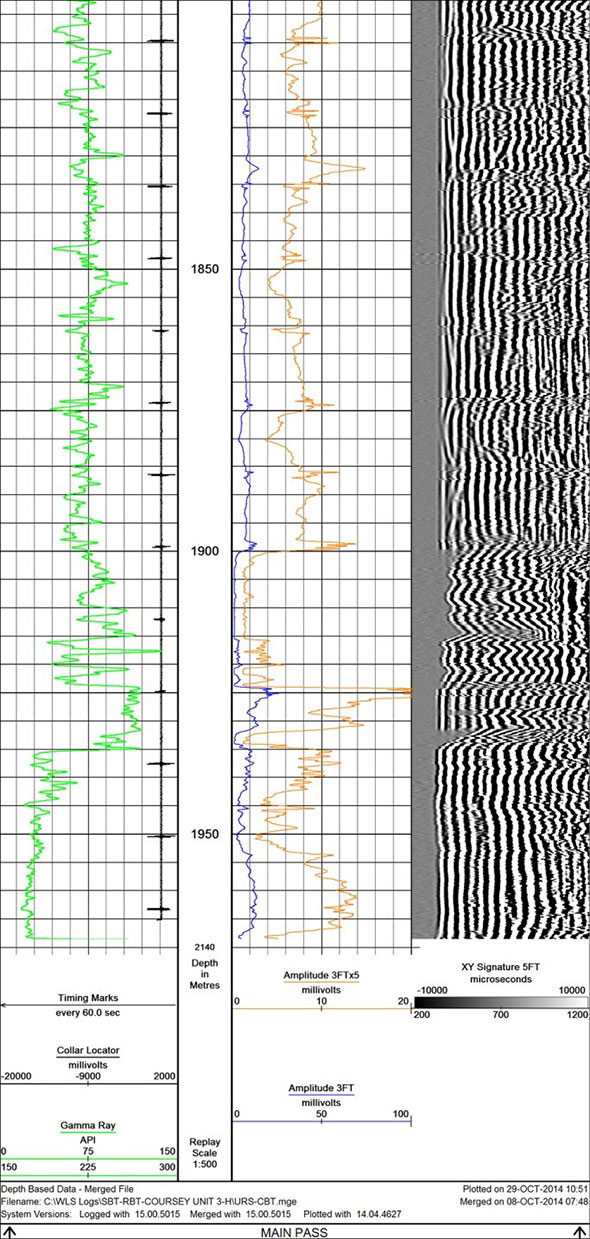 A typical BondView log presentation indicating a good cement bond in the lower portion of the log
Reach out to optimize reservoir performance
Please fill in the form below for more information on our comprehensive and high-resolution technologies. You will hear from one of our wireline representatives shortly.
Thank you for contacting us.
Your request is being directed to the appropriate person in our organization.
We will be in touch soon.