Determines the location and magnitude of casing damage to help maintain well integrity
Applications
Locating and determining penetration percentage and geometry of internal and external casing defects
Determining burst pressure on a per joint or per defect basis
Monitoring long-term time-lapse corrosion in gas storage and injection wells
Locating and identifying casing hardware and identifying casing weight or grade changes
Evaluating perforation performance
Establishing remediation requirements
Features and Benefits
State-of-the-art magnet and sensor technologies deliver a consistent magnetic field and flux leakage measurement.
High-resolution sampling provides 10 data samples per inch (400 data samples per meter) when the logging speed is 100 ft/min (30 m/min).
3D visualization software enables the interpretation of anomalies found in or near casing collars and the position of external and in-line hardware, surface casing, and perforation patterns.
The FluxView tool detects and quantifies defects on the inside and outside of casing walls by means of 100-percent circumferential analysis that defines percent penetration.
The tool quantifies the geometry and depth of defects, which helps to make burst-pressure calculations.
Measurement is independent of borehole fluid and is unaffected by defects on outer casing strings or by logging speed.
The post-processed log contains snapshots of all casing collars, all located hardware, and the worst-case defects above a penetration threshold in each joint.
The FluxView tool can be run on either single- or seven-conductor wireline.
Combinability with the Weatherford SecureView® suite, including UltraView®, BondView®, and CalView® tools, enables diagnosis of multiple downhole threats in a single pass.
Tool Description
The Weatherford FluxView tool determines the location and magnitude of casing damage by providing concentrated levels of magnetic flux in the casing wall using a powerful samarium-cobalt (SmCo5) magnet. Localized disturbances created by casing defects within this magnetic field cause magnetic flux to leak from the casing. The magnetic flux is measured by an active Hall-effect sensor array.
The FluxView tool detects and quantifies casing defects using advanced sensor technology. High-resolution data sampling and the use of a 360° sensor array provide the percent of defect penetration and defect geometry, regardless of whether the defect is inside or outside of the casing wall. The tool also identifies anomalies in or near casing collars.
The FluxView analysis package classifies each joint of casing with respect to the worst-case defect found, percent penetration, and burst pressure. The analysis package can produce a joint-by-joint well summary and a comprehensive joint table that lists all defects found in any casing joint.
After the FluxView tool measures magnetic flux leakage, Weatherford CITVision software can be used to process the data and generate high-resolution, interactive 3D images. The produced images enable visual identification of corrosion, defects, collar issues, and other physical deformities, both inside and outside the pipe.
Specifications
Measurement
| | |
| --- | --- |
| Defect geometry | % penetration |
| Logging speed | 6,000 ft/hr (1,800 m/hr) |
| Sensor sampling rate | 122 per ft (400 per m) |
| Accuracy | ±10% at 3T * |
| Resolution | 20% of 3T * |
| Borehole fluids | OBM, WBM, Brine, Gas |
* 3T = 3 × nominal wall thickness

Using an array of 360° sensors, the FluxView tool measures magnetic flux levels in the casing to help locate leaks and pinpoint defects.
Mechanical
FluxView sensors

60

80

120

160

Outer diameter

3.88 in. (98.60 mm)

4.11 in. (104.40 mm)

5.13 in. (130.30 mm)

7.00 in. (177.80 mm)

Length

18.70 ft (5.60 m)

18.30 ft (5.48 m)

18.70 ft (5.60 m)

Weight

429.20 lb (194.60 kg)

430.40 lb (195.20 kg)

582.80 lb (264.30 kg)

889.30 lb (403.40 kg)

Sensor density (sensors/pads)

3/10

4/10

5/12

5/16

Casing size range

4.5 to 5 in.

5 to 5.5 in.

6.625 to 7.625 in.

8.630 to 9.630 in.

Temperature

320°F (160°C)

Pressure

15,000 psi (103.4 MPa)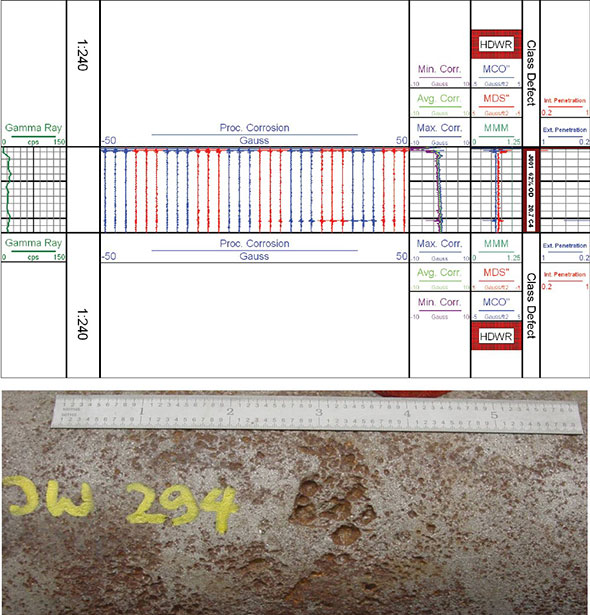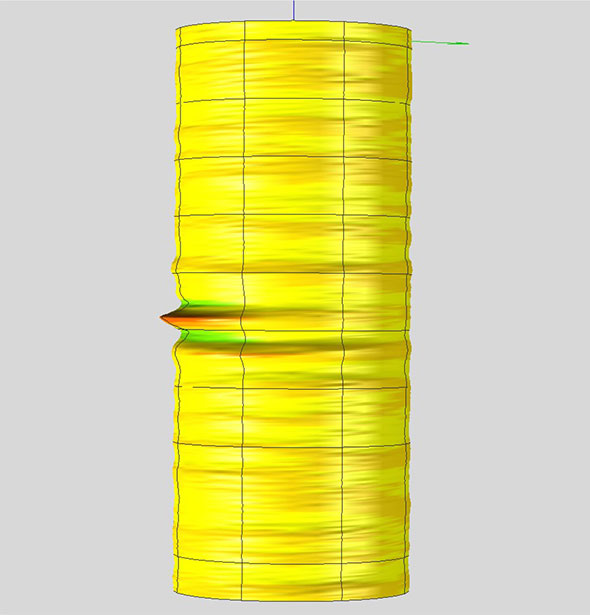 The bottom left image shows the actual casing defect that was detected in the log above. The high-resolution image (right) generated by CITVision 3D software shows the same casing defect in a 3D visualization.
Reach out to optimize reservoir performance
Please fill in the form below for more information on our comprehensive and high-resolution technologies. You will hear from one of our wireline representatives shortly.
Thank you for contacting us.
Your request is being directed to the appropriate person in our organization.
We will be in touch soon.