Jointly Developed LWD Service Wins SPE Award
March 3, 2016
Weatherford, Chevron Recognized for High-Temperature Technology
HOUSTON, March 4, 2016 – At the SPE Thailand E&P Annual Awards Program 2015, held on February 26 in Bangkok, Thailand, the HeatWave™ Extreme service — jointly developed by by Weatherford and Chevron — won the top prize recognizing achievement in the oil and gas industry.
The HeatWave Extreme service, the development of which was announced in a November 2015 press release, includes an enhanced logging-while-drilling (LWD) tool string capable of withstanding temperatures of up to 410°F (210°C).
"We are pleased to be recognized not only for our game-changing technology, but also for our close collaboration with Chevron Thailand, who has been an excellent partner throughout this project," said Etienne Roux, Vice President of Drilling Services at Weatherford.
About Weatherford
Weatherford is one of the largest multinational oilfield service companies providing innovative solutions, technology and services to the oil and gas industry. The Company operates in over 100 countries and has a network of approximately 1,200 locations, including manufacturing, service, research and development, and training facilities and employs approximately 37,000 people. For more information, visit www.weatherford.com and connect with Weatherford on Facebook, LinkedIn, Twitter and YouTube.
Contact Weatherford
For further information: Kelley Hughes, Corporate Communications Manager, Kelley.Hughes@Weatherford.com; Jennifer Roth, Communications Specialist, +1.713.836.4345, Jennifer.Roth@Weatherford.com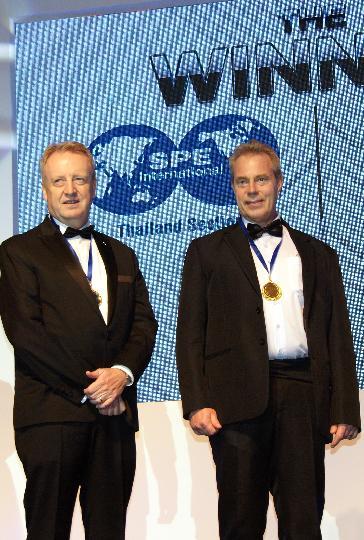 Steve McBride (left), general manager of Weatherford operations in Thailand, Myanmar, Vietnam, Bangladesh, Cambodia and Laos; and Doug Ellis (right), senior drilling engineer, Chevron Thailand, accept the award.